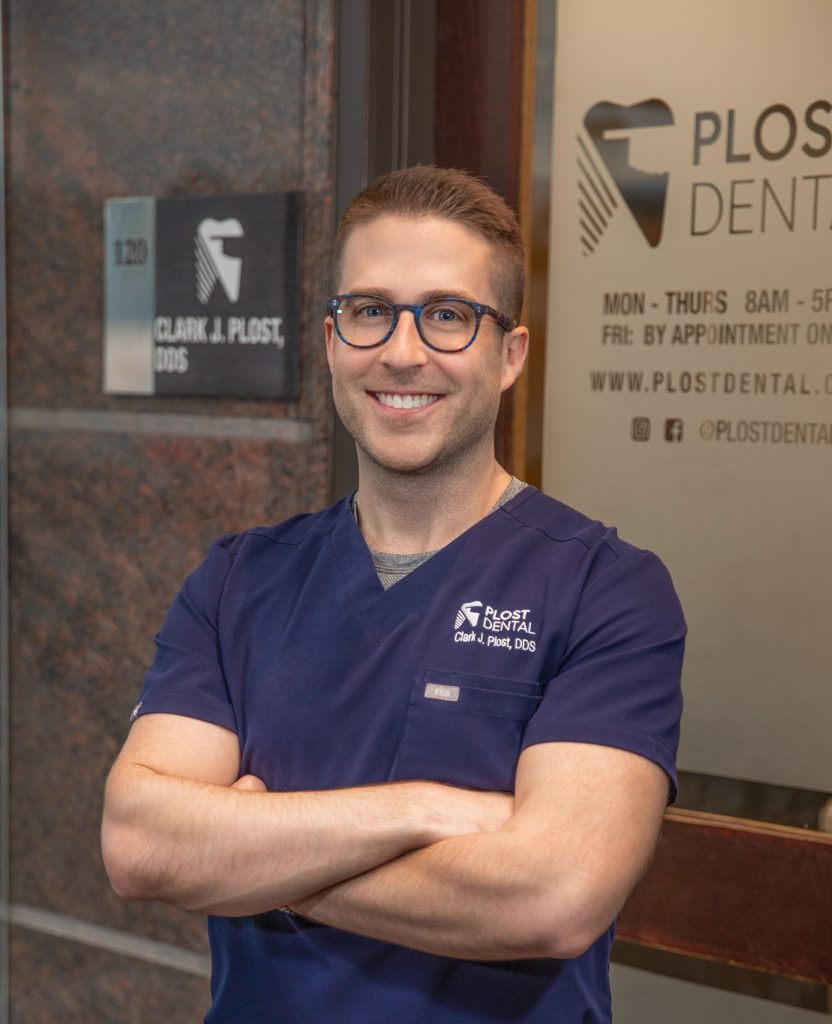 Dr. Clark Plost is a private dental practice owner in Tulsa, Oklahoma. He first started working with Solutions 101 while he was finishing his post-dental school residency program.
Clark knew he wanted to open his own dental practice quickly. Partnering with Solutions 101 helped him find the right opportunity to purchase the right practice, and establish a strong insurance contract strategy that allowed his business to be profitable from the beginning. 
Clark spoke with me about his background in dentistry, and reviewed his experience working with Solutions 101.
What do you love about dentistry? Why did you choose this career?
"It may sound strange," Clark said, "but I've always been very fascinated with teeth. When I was in braces as a seventh grader, my orthodontist worked some pretty amazing magic in my mouth. That's kind of what sparked my interest. I come from a family of physicians, and I'm just a little defiant I guess, so I wanted to pick a different path. The more time I spent around dentistry, getting exposure through shadowing, the more confident I was that this was the career for me."
"I went to college for a business degree while I completed my pre-dental requirements at the same time. After dental school, I completed a residency program which was tremendously helpful because I had the opportunity to work on several advanced cases. I was also able to learn more about what it takes to actually run a practice, so that put me in a good position to start my own."
Do you feel like your experience studying business in your undergrad made you better prepared to manage your own practice?
"In some ways yes," Clark said. "I think if anything it made me more familiar with the language of business. They don't teach you anything at all about business management in dental school. So, even just knowing that I needed to have a CPA, knowing how to read an income statement and a balance sheet, things like that. Of course before dental school I would have told you I had a lot more knowledge in finance and accounting than I do now. Focusing intently on learning dentistry pushed a lot of that to the side. But I'm still familiar with business language and I think that was very helpful."
What did you learn in business school that helped you the most when you were trying to start your own practice?
"The most important thing I learned studying business was the understanding that I needed to surround myself with smart people who were experts in their individual fields. Having those people around me helped me navigate to finding the right practice, being able to buy it and then owning a business."
How did you first hear about Solutions 101? What was the problem that you needed to solve?
"I actually became friends with Craig, their CEO, during my residency years. I was fascinated by what S101 was doing, reverse engineering dental insurance. I would visit with them, hear about what they were doing and how they did it. They were very active participants in helping me evaluate practices and figuring out where to land. When we found this practice, it was very largely insurance driven. The actual financials were upside down when I bought it, but with S101 it was fairly simple for us to make a few big changes and have a complete 180 on the practice."
The majority of our clients are often established practices that need help getting out of an upside down insurance situation, not someone starting from the ground up. What was it like working with S101 to design your insurance strategy from the beginning?
"Even though it was a new practice for me, and I wasn't automatically credentialed under any of their existing contracts, I still had to be conscious of their existing patients that we didn't want to lose. They were accustomed to the previous owner being in-network, and people get really sensitive about that. So we couldn't necessarily just go in and make abrupt changes because of that."
How did you navigate through improving your insurance situation without negatively impacting your existing patients?
"That starts with the language you use and the way you explain things to patients. A lot of that was how we structured my fee schedule. Where you set your fees in order to have the insurance companies use that schedule as an out-of-network provider, so that you get to recoup the majority if not all of your fee, without raising the patient's financial responsibility more than they were used to before."
What strategy did you use to accomplish that?
"My fees are generally less than what other offices in my area charge, but I get to collect my full fees more often than not. Whereas a lot of these other offices are writing off large amounts of their fees that they can't collect because of their insurance contracts. We had to get really granular with insurance plans. Every single patient's plans had to be combed through to see where that put this patient from an in or out of network perspective. What we quickly found was that the patient has very little to no increase to their financial responsibility than they would if we were in-network, we would just be taking more of a hit."
"So patients were happy as long as they didn't feel like they had to pay dramatically more out of pocket than before. I also had the same staff, which helped retain patients. It's a complicated equation of different pieces that all play a part in retaining a patient. The insurance was a big piece but there are a lot of other variables as well. Thankfully our patients enjoyed their experience and most stayed."
Was there any push-back or hesitation from the staff when you took over and started making these changes?
"For sure, they had a lot of hesitations at first. They were worried about driving patients away. The best way we addressed those concerns was by having S101 come on site and discuss their concerns directly. They explained the landscape of dental insurance and how it really works, and how this is a very possible thing to do that doesn't put the patient at a disadvantage."
What was the outcome of your work with S101?
"It was a tremendous success. Our schedule is less busy than the previous owner's was, but the practice has become far more profitable. And that's really the dream isn't it?"
What was the most surprising thing you learned through your experience working with Solutions 101?
"I didn't have any real understanding of how dental insurance actually works. You didn't get any of that education in dental school. In residency programs thankfully they brought in people like Craig and the S101 team to educate residents on how things work. I was very fascinated by what they were doing from the beginning, so I took a little bit of a deep dive into it."
"It's amazing to me how terrible dental insurance really is. The fact that there's only one winner in the equation, and it's not the doctor and it sure as hell isn't the patient. So I've learned a ton, and I always say we play the insurance game really hard in our office, and we have to in order to execute what Solutions 101 put in place for us."
What does it mean in your practice to play the insurance game hard? What does it take to continue that success?
"Everything is changing all the time, there's always a new problem. Patients change employers, or their employers change insurance companies, and every year you have open enrollment where people can make different choices. So it's a constantly changing landscape. The challenge is staying on top of that, and that's why we pull up benefits constantly for patients to make sure we're following along with what's really going on."
"We also keep a log on how things are being reimbursed, especially in terms of different plans that we don't have a good idea of their fee schedule. That way we know how to better estimate what the patient will have to incur. And we also do pre-determinations for everything we do, which is helpful. We're highly involved but it takes a lot of the guesswork out of it for us and our patients."
Do you find that doing all of that work to keep track of your patients' plans also helps to improve your relationship with them?
"They really appreciate how on top of it we are for them, because they don't really have a clue how it works either. Almost no patient understands their dental insurance. You ask them for their insurance and they give you their medical ID cards. They usually just assume that all dental insurance is terrible anyway. Yet they still let that dictate their treatment and course of action, which is frustrating. I work really hard to treat my patients based on what's actually needed in their mouth, not what insurance is going to cover. Trying to educate our patients and make them more aware of what the right treatment would be, versus what their insurance would want the treatment to be. That's a challenge we encounter often."
Is there anything in hindsight that you would have done differently? Or that we could have done better?
"It sounds kind of silly but honestly no. Solutions 101 has been amazing, I wouldn't have changed anything about my involvement with them. I've had just nothing but good things happen with them, and I attribute a lot of the success of the practice to the work they did."
Do you think that dentists and practice owners in general are reluctant to talk to other dentists about problems they might be having like low revenue, insurance problems etc?
"I think it just depends. Some practices probably put on an act like everything's great when things are crumbling. But, then I also know practices that are very transparent when things aren't working, and they actively look for answers. It's fascinating to me that people don't automatically use Solutions 101 if they have any sort of insurance involvement in their practice. But I guess people are skeptical of what can actually be done, and they don't want to invest the time and energy necessary to make these big changes when they feel like things are fine. I think a common problem is that a lot of practicing dentists aren't super involved in running their business. If they're just living their nice lifestyle and their work day is going fine, they're not very inclined to dig deeper. I think a lot of people can just get complacent, but I'm just not that kind of person."
Do you feel like it took a lot of time and energy to implement this strategy successfully?
"I mean it does take a lot of work. You've got to dedicate yourself to the process. More than just leaving a network, that's easy to do. But then having to navigate managing all the details from there takes a lot of effort. If someone isn't willing to put in that effort, or if they don't ultimately see the value in doing it, then it's really a waste of time."
Who do you think would benefit from working with Solutions 101?
"I think a great candidate to work with Solutions 101 would be someone like me, a graduate who's finishing up residency. Someone who can be really open minded to starting the right way, instead of having to admit that they made some mistakes and make changes."
Do you think it could be a case of simply having a higher risk tolerance when you're young and new in your career? If you try something when you're fresh out of dental school and it doesn't work out, you still have your whole career to correct it.
"I think that's probably part of it too. I'm very much trying to build so when I mess up, I correct and try a different path. The only thing I would challenge about that would be that dentists who have already been practicing for decades have a very loyal following from their patients that are going to be much more receptive to a change with them than they would be with a new doc who they have no connection with. So I think more experienced dentists can actually be in a really great position to make some aggressive changes to the insurance at their practice."
What would you tell another dentist or a dental school grad if they asked you about S101?
"I would honestly just say that you need to work with Solutions 101. If you have any sort of insurance involvement at your practice you need to have a conversation with them. In my experience, I haven't found anyone who has better knowledge and understanding of the dental insurance industry. You don't know what you don't know, but Solutions 101 does."